This past weekend, my husband and I were invited to three weddings on two days. With two on the same day in different states, we each had to skip one of the weddings. We reunited on Sunday for the third and final wedding.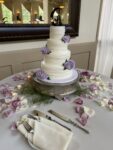 On Friday I traveled to Maryland to be a bridesmaid in my friend's wedding. After a successful rehearsal at the church, we made our way to the rehearsal dinner at Kelsey's Restaurant to unwind and reconnect. The food was excellent, and we all enjoyed watching a slideshow the bride and groom made with images of them as children, as a couple and with members of the wedding party. On Saturday the bridesmaids were up bright and early for hair and makeup. We then went to the church for a beautiful ceremony. After taking wedding party photos, we were ready to party! The reception took place at Historic Savage Mill. We had a blast dancing and toasting the bride and groom.
My husband sent me photos from his cousin's wedding in New Jersey, and I sent him photos from my friend's. We felt more connected seeing the weddings we each missed.
I left Maryland early on Sunday to head to my house in New Jersey before going to our final wedding of the weekend on Long Island. My husband and I packed the car, braved the New York traffic and made it to our hotel with time to spare. We drove to the venue with my parents for my cousin's wedding at The Crescent Beach Club. Thankfully, the weather was beautiful, and the ceremony took place on the beach with the sunset as the backdrop. His wedding was rescheduled from last July due to COVID-19. Everyone was happy to be there to celebrate in person.
All three weddings were each so beautiful. It was disappointing we couldn't both attend all three, though we had to do what we could given the circumstances. I was happy we were able to celebrate three incredible couples during the whirlwind weekend.
— Katie Skrzek, vice president/digital director
FX Excursions
FX Excursions offers the chance for once-in-a-lifetime experiences in destinations around the world.
With the autumn in full spring, now is time to start planning your fall weekend getaway.  Whether a relaxing weekend on the lake, leaf-peeping or hiking, check out these fall travel trends from vacation rental management company Vacasa.
Sponsored Content
Without a doubt, the pandemic changed the role of airports in the travel industry. Hamad International Airport's role evolved in many ways since the pandemic hit. Now, more than ever, airports are responsible for creating a secure passenger experience. As the gateway to Qatar and the world, the safety and wellbeing of staff and passengers has always been at the core of Hamad International Airport's strategy.
I imagine that when writer Hans Christian Andersen mused, "Life itself is the most wonderful fairy tale," he was standing at the edge of Copenhagen's historic Tivoli Gardens, one of his favorite haunts, enlivened by the swirl of human happiness that surrounded him: children laughing; carousels spinning; games of chance played for prizes; lovers holding hands; hungry people whispering over sweets, hot drinks, beer and towering, open-faced smørrebrød, Denmark's quintessential sandwich. That fairy tale lives on today at the second-oldest amusement park in the world, a spectacle of folly architecture, bakeries, gardens, rides, restaurants, puppet shows and joy ... and which also happens to be one of the city's most storied places to convene for business.