When it comes to Sundays, I try to keep things pretty simple.
Sundays are my day to relax and unwind. I'm not necessarily looking for elaborate moments of high impact; rather, I'm simply looking for peace and ease. Most Sundays you can usually find me at a church service or on the beach (and sometimes both before noon).
Every once in a while, I stumble onto something lovely on a Sunday.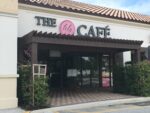 Such a stumble happened a few weeks ago when I happened upon The Lily Café. As I walked inside, I apologized to the host for sneaking in so close to closing time. However, as I've come to learn, sneaking into a place a little later than originally planned occasionally has its advantages.
This advantage was particularly fortunate because I was allowed to sit at the bar while other tables were being cleaned. While I'm not always keen on "bar talk," the bar at The Lily Café is easygoing … more like a brunch bar than an alcohol bar. In fact, I was able to speak with four different employees while watching them roll silverware and top off beverages. Each was very friendly — despite the fact I'd walked in 20 minutes before closing.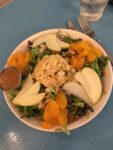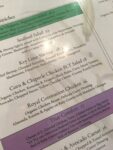 The charm of The Lily Café is found not only in the names of the menu items (I greatly enjoyed my Royal Coronation Chicken Salad), but also in the ambiance and décor. Of course, lilies are present, but so are roses, delicate crystal chandeliers, wainscoting and touches of pink in every place your eye lands. My favorite is the large "L" on the wall in the far back of the café made out of soft pink roses. It stands strong as the focal point of the room, along with a variety of glittering silver mirrors surrounded by greenery in strategic locations.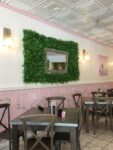 The website for The Lily Café describes the location as elegant, stylish and cheerful — all perfect descriptors for the café's owner, Lark.
Lark and I hit it off and began chatting about Sarasota. I mentioned I'm fairly new here, and she mentioned how it's not always easy to make friends. We chatted about my son, about her former career as a tennis coach and other restaurants around town I might enjoy. It's not often I get such a casual encounter with someone like her, and we exchanged business cards as I thanked her for her conversation (and slightly gushed over the curry chicken salad made in-house with organic chicken).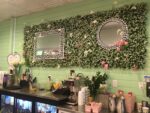 So while I may have stumbled into a lovely eatery for a late lunch, it turns out Sundays are for stumbling into kind strangers as well. It's one of the reasons why I enjoy living here … Sarasota is easy like Sunday morning. And The Lily Café will continue to be one of my simple Sunday stops moving forward.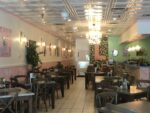 — Carrie Cox, account executive
FX Excursions
FX Excursions offers the chance for once-in-a-lifetime experiences in destinations around the world.
Galataport Istanbul, a new cruise and lifestyle destination on the Bosphorus in Istanbul, welcomed its first ship, SeaDream II, on Oct. 1. Approximately 150 passengers and crew from Bulgaria Varna arrived at 10 a.m. for a two-day homeport operation before continuing to Bulgaria Burgaz.
Sponsored Content
The Global Business Travel Association's (GBTA) Convention 2021 will be unlike any other convention before it, as we come together in person for the first time since the business travel industry drastically changed and look forward to rebuilding and reshaping the future. GBTA Convention 2021 will bring all of us together to learn from experts and each other, in-person at Orange County Convention Center in Orlando, Florida, Nov. 17–19. The safety of our attendees is our top priority. View health and safety protocols.
The countdown to Halloween weekend is on! Are you are still unsure about plans? Do you go to a house party? Stay in to hand out candy? Try something different this year and join Philadelphia's  The Mütter Museum at its 6th annual Mischief at The Mütter.