I just got back from my family's annual trip to Ocean City, New Jersey. We have been going at the end of July for more than 10 years now. Typically we only go for one week, but the past two years we've gone for two. My whole family looks forward to this trip because we all love Ocean City and have our traditions and places we like to go.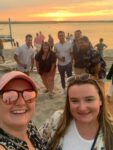 We were lucky enough to have beautiful weather for pretty much the entire two weeks. The weather was warm, but not as warm as the weather in Philadelphia, so I was glad to escape the heat. Almost every day we were on the beach; there was a nice breeze that kept us cool even if we were sitting in the direct sun. There was one day where there was almost no breeze, making it extremely hot on the beach, so we kept having to go into the ocean almost every 30 minutes to keep cool. The ocean was pretty cold, so it was very refreshing during that one hot day. Throughout the two weeks I worked from the beach house but joined my family on some lunch breaks and after the workday if they were still there.
Since we have been going to the beach for so long, we all have certain restaurants we like to go to throughout our time. One of my favorites is Piccini's Pizza — the Jumbo Lump Crab Margarita Pizza is my favorite! We also like to go to Kessel's Korner, good any time of the day. For breakfast, we love the banana pancakes, and according to my family, the burgers are the best on the island and perfect for lunch or dinner. While there, don't forget to get a side order of the crinkle-cut fries.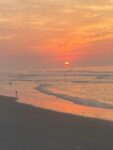 One place we frequently visited this year was Deauville Inn in Strathmere, about 15 minutes away from where we stay in Ocean City. Deauville Inn is perfect for any occasion, and this year we went for three. The first was for a family friend's 21st birthday celebration. We all met up on the beach and casual part of the restaurant, where you can order drinks and appetizers. The next time we went was for a more formal dinner inside the restaurant, and the last time was for happy hour. No matter what occasion you are celebrating, Deauville Inn has something for you.
Another one of our yearly traditions is waking up early to see the sun rise. This year we were a little nervous we weren't going to see it on the day we picked because the morning started out a little foggy and cloudy. Luckily, at the last minute, the sun peeked through the clouds, and it ended up being a great morning and stunning sunrise.
The vacation was so fun, and I'm sad its already over — I am already looking forward to next year.
— Mary Melnick, social media and editorial coordinator
FX Excursions
FX Excursions offers the chance for once-in-a-lifetime experiences in destinations around the world.
COMO Hotels and Resorts offers travelers new immersive luxury retreats for 2022. Perfect for couples, small groups or solo travelers, the new COMO Journeys are available to book in Australia, Bhutan, Indonesia and Thailand.
Sponsored Content
TAP Air Portugal, or rather Transportes Aéreos Portugueses, was founded 77 years ago, March 14, 1945, and flew its first commercial flight September 19, 1946, inaugurating service from Lisbon to Madrid, Spain, aboard a Douglas DC-3.
Anantara Chiang Mai, the deluxe resort on the banks of Thailand's Mae Ping River, relaunched the city's most famous high tea experience, served on the terrace of the 100-year-old British Consulate that today houses the resort's Service 1921 Restaurant & Bar.