Last time I shared on my blog about my flight to Riyadh, Saudi Arabia, on a Lufthansa flight. And while that part of the journey was certainly memorable, the real adventure began once I touched down at King Khalid International Airport.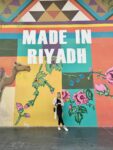 The World Travel & Trade Council conference did a great job facilitating all airport and convention transportation. Meaning, soon after I landed, made it through customs and retrieved my bag, I found a representative from the convention who led me to a private car to take me to my hotel. The car was stocked with refreshments and a welcome box from the convention including artisan dates. I would later find out dates are popular in Saudi Arabia, as I would be offered them everywhere I went.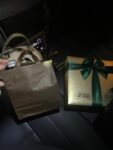 The Jareed Hotel was beautiful. It was located on the original "boulevard" in town (pretty much a shopping center here in the United States). My room was on the third floor and had a lovely presentation of snacks and water upon my arrival, as well as a note from the concierge. And, more dates, of course …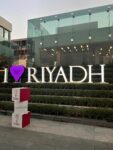 The first thing I did when I settled in was order minestrone soup from room service and take a hot shower using the waterfall faucet and products from the property.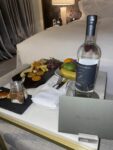 Throughout my stay in Riyadh, I had the chance to explore the hotel and the boulevard a bit more. There is no alcohol service in Riyadh, but I really enjoyed the mocktail bar on my floor of the Jareed. The bar was called The Living Room and had an extensive snack and mocktail menu to enjoy next to a TV on a couch or outside on the balcony. I loved its take on an espresso martini as well as the English Rose citrus drink.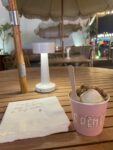 Some of the other restaurants and shops on the boulevard included a Five Guys burger joint, Starbucks and an ice cream shop called Crème. The boulevard was Instagram-able with murals and neon signs for a good photo op.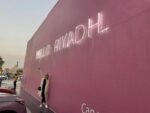 Something I found very interesting was the spa menu at the hotel. The mud bath caught my eye; however, for women to enjoy a swimming pool, they must travel to the other end of the boulevard to use the women-only pool, as the only in-house option was for men. This is quite normal in the Middle East but wasn't something I was used to. I never got a chance to use the women's facility, but I did take a peek in. I did appreciate how this separation made women feel comfortable in their swim gear.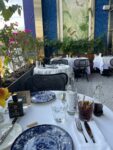 There is still so much to share, and I look forward to continuing to recount my once-in-a-lifetime experience. Thanks for the continued support.
— Haley Fogarty, advertising manager
FX Excursions
FX Excursions offers the chance for once-in-a-lifetime experiences in destinations around the world.
ZEL, the new lifestyle hotel brand from tennis superstar Rafael Nadal and Meliá Hotels International, is set to open its first hotel. Located in Mallorca, Spain, the hometown of both Nadal and Meliá, ZEL Mallorca debuts July 1.
Sponsored Content
Are you looking to enhance your business trip with a little leisure? Look no further than Portugal, a country renowned for its captivating blend of history, culture and natural beauty. And with TAP Air Portugal, you can effortlessly transform your business trip into an unforgettable bleisure adventure. Discover why Portugal and TAP Air Portugal are the perfect combination for an enriching and rejuvenating experience.
Crystal Bridges Museum of American Art, located in Bentonville, Arkansas, presents Diego Rivera's America, the first major exhibition focused solely on the Mexican artist in more than 20 years, on view until July 31. Crystal Bridges is the second and final stop for the exhibition, the only remaining opportunity for visitors to experience Rivera's expansive vision of America.