As you may have heard, a majority of the American West has been experiencing drought conditions for several years, and wildfires have been a horrific reality as well. Here in Southern Oregon, this spring has been very dry, and we had a few 100-plus-degree days as early as May, which was extremely unusual. Reservoirs are at historic lows; and farmers, orchardists and ranchers are being told irrigation water may be cut off as early as August. The weather weighs on everyone's mind these days, and we watch weather forecasts for any signs of rain.
Just over a week ago, the weather service indicated thunderstorms were possible and might provide a good amount of rain. Dry lightning storms make everyone nervous, as they can lead to those wildfires that bring so much death and destruction. We were in the midst of a stretch of hot weather, with highs in the upper 90s and low 100s, and the morning dawned without a cloud in the sky. By 3 p.m., with the temperature hitting 95 degrees, the clouds were building up and looking ominous while the wind also picked up. I scurried to lower our large patio umbrella and move the chairs under cover as a few large raindrops splashed onto the hot pavement.
A few minutes later, I retreated indoors and hoped we'd get some measurable rain, as too often we'd only be teased with a brief, light shower before the clouds moved off. I began to hear what sounded like baseballs hitting the siding and roof and wondered if the wind was tossing something around. I was shocked to look out and see immense hailstones bouncing off the ground.
Now, I realize Midwesterners regularly see much larger hailstones, but I'd never seen anything like this in Oregon. The ones pictured here were picked up a good hour after the storm had passed through.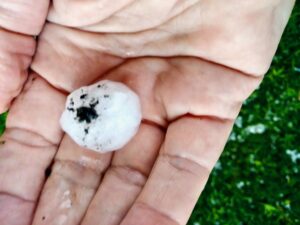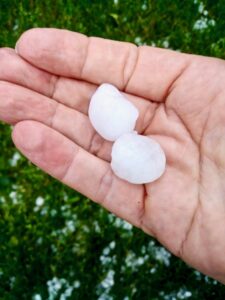 The worst of the hail was over in about 10 minutes, but the rain, lightning and wind continued for at least half an hour. In that time the temperature dropped about 20 degrees, and we got almost half an inch of rain — such a blessing! As I inspected my yard and garden afterwards, the damage the storm wrought was everywhere.
The hail knocked foliage off of trees,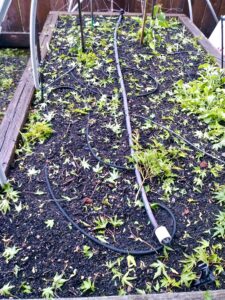 shrubs and potted plants, sometimes partly denuding smaller, more tender plants. The large leaves of a zucchini plant were pocked with large holes and tattered by the ice,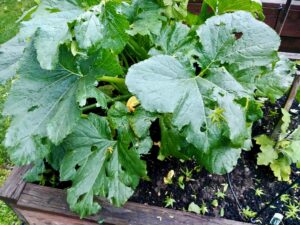 and piles of drifted hailstones remained on the ground even into the next morning.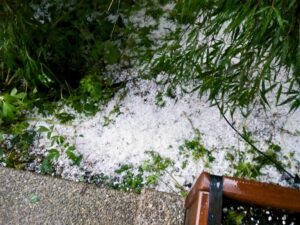 Where the icy slurry lasted for long, I realized later that it had frozen and killed the foliage underneath it. All in all it was a rather exciting demonstration of the power of Mother Nature that, while causing some damage, also brought welcome moisture.
Then, less than a week later, we were baking under a "heat dome" which brought all-time record high temperatures to cities all over the states of Oregon and Washington and into British Columbia. We reached 115 degrees when average highs are in the mid-80s . . . and it wasn't even July, yet! The temperatures have come down to "just" the low 100s, but everyone is concerned what the rest of the summer might bring. That is the main reason many communities have banned the sale of fireworks as we enter the Fourth of July weekend, and some have also canceled their large professional displays. No one wants to repeat the events of last year even as we've seen smoke drift into our valley this week from large fires burning across the border in California.
I feel we've been a bit whiplashed these past few weeks with our weather, experiencing the extremes of fire and ice in such a short timespan. I would welcome a little less drama for the next few months and a lot more rain, but at this point I'll just settle for safe July 4th celebrations and no major wildfires here this year.
Wishing you a happy and safe Fourth of July!
— Patty Vanikiotis, associate editor/copy editor
FX Excursions
FX Excursions offers the chance for once-in-a-lifetime experiences in destinations around the world.
With the autumn in full spring, now is time to start planning your fall weekend getaway.  Whether a relaxing weekend on the lake, leaf-peeping or hiking, check out these fall travel trends from vacation rental management company Vacasa.
Sponsored Content
Without a doubt, the pandemic changed the role of airports in the travel industry. Hamad International Airport's role evolved in many ways since the pandemic hit. Now, more than ever, airports are responsible for creating a secure passenger experience. As the gateway to Qatar and the world, the safety and wellbeing of staff and passengers has always been at the core of Hamad International Airport's strategy.
I imagine that when writer Hans Christian Andersen mused, "Life itself is the most wonderful fairy tale," he was standing at the edge of Copenhagen's historic Tivoli Gardens, one of his favorite haunts, enlivened by the swirl of human happiness that surrounded him: children laughing; carousels spinning; games of chance played for prizes; lovers holding hands; hungry people whispering over sweets, hot drinks, beer and towering, open-faced smørrebrød, Denmark's quintessential sandwich. That fairy tale lives on today at the second-oldest amusement park in the world, a spectacle of folly architecture, bakeries, gardens, rides, restaurants, puppet shows and joy ... and which also happens to be one of the city's most storied places to convene for business.