For the first time in months, I had a two-week period without leaving the Chicago area. Even with this travel hiatus, this past weekend was jam-packed.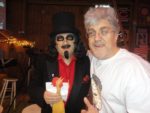 It started when I met Svengoolie, also known as Rich Koz. Svengoolie is a legendary television host of a show featuring horror and science fiction movies. Svengoolie was making an appearance at the Barn at Arabian Knights Farm in Willowbrook, Ill.
Arabian Knights Farm, featuring three barns, 60 stalls and five acres of sprawl, is a horse lover's dream. It also has a petting zoo and a very cool barn which hosts musical performances, theater and more. Its rustic appearance is full of character and is great for a date, a party or just hanging out.
Saturday morning, we started our day at Stacked in Oak Lawn. We shared orders of the banana bread French toast and the red velvet French toast. Both were outstanding, but the red velvet was just so unique.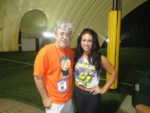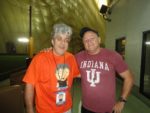 We ventured to the Bridgeview Sports Dome to attend the tryouts for 2014 Chicago Bliss. The Bliss won the Legends Football League championship. These women are tough, serious football players led by coaching veteran Keith Hac. I talked to several players, including tight end Deena Fagiano and their passion for the sport was palpable and impressive. As the sport has gotten more serious, its fanbase has been growing.
After a few hours of football fun, we went to the Wheaton Haunted Halloween Flea Market. After browsing hundreds of booths, I picked up some beautiful glass bottles, vintage record albums and plenty of fresh-baked goods.
We finished the day at DC Sarnies with a meal of crab cake sliders, vegetarian ravioli and lobster bisque. My mouth is still watering as I write this. My friend described it as a higher level of comfort food. I just called it ridiculously tasty.
I spent Sunday watching football. I earned the rest, although I am not complaining about anything. I had a lot of fun and great food without leaving my home area.
— John Wroblewski, online contributor
FX Excursions
FX Excursions offers the chance for once-in-a-lifetime experiences in destinations around the world.
Pantone recently unveiled its color of the year for 2023. The highly anticipated announcement has become a tradition, each year introducing a new color to represent the coming year. In 2021, Pantone declared 2022 to be the color of Very Peri 17-3938, a blend of purple and blue. For 2023, Pantone's Color of the Year is Viva magenta 18-1750. A shade from the red family, this color represents a new signal of strength. Brave and fearless, Viva Magenta is rooted in nature and embraces joy and celebration.
Sponsored Content
There's no better time to plan the vacation you've been missing. Step aboard with your better half, your friends or the whole family and reconnect, reunite and rejoice with 25 percent off cruise fares for all guests. We'll also help everyone get there with 25 percent off airfare from 20 major gateways across the country or $100 savings per person on flights from all other gateways when you book your air travel using Flights by Celebrity.*
The UNESCO World Heritage neighborhood of Balat rivals İstanbul's Old City for its historic significance, with an added splash of color. Its cobbled hilly streets boast a full rainbow of houses, cafés, restaurants and churches painted in pinks, reds, oranges, yellows, greens and blues — parts even surpassing my native San Francisco's steep, colorful corridors. The most vibrant stretch of homes, dating anywhere from 50 to 200 years old, runs along Kiremit Caddesi.