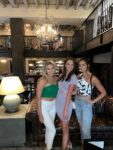 I was in awe as I walked inside Sage SRQ restaurant in Sarasota, Florida. The atmosphere was not at all what I expected. Live music was playing on the main floor, which consisted of a sitting area overlooking the lower-level bar, which was great for those waiting for the rest of their party to arrive or for their table. I felt as if I walked into a classy speakeasy in Manhattan, the way the dim lighting hit the dark leather furniture. However, rather than waiting, we walked down the stairs and found a spot on a stool at the bar, where my friends ordered cocktails that required the bartender to torch the top to give the foam an extra flavor while laying coffee beans for décor. Espresso martinis, how fancy!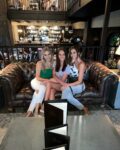 When our table was ready, we went up two flights of stairs, passing a small wine room, to where we were seated on the third floor overlooking the entire restaurant. After we ordered a bottle of wine for the table, one unique thing Sage did was bring the table a surprise taster. Ours appeared as a salmon cake ball, which I thought was very nice. Our waitress was very knowledgeable. She knew the description of every item on the menu without having to look, including the specials. Not knowing what to order, our table of six decided to eat family style, ordering several appetizers and a few main courses to share, which worked out perfectly because we could try a little bit of everything. My favorite was the scallops served over caramelized onion topped off with a delicious glaze of seaweed and edible flowers.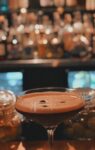 Overall, I was pleased with my experience at Sage. It wasn't too crowded or too loud for the aesthetic it brought forward. The food and drinks were spectacular, and the service was fantastic. The food was a little pricier, but the quality showed. The only downfall of the restaurant was we had to wait 30 minutes beyond our reservation for a table, which sucked up the time we had expected to utilize to see the restaurant's rooftop bar, which is known to have spectacular views of downtown SRQ.
If you are ever in Sarasota, I highly recommend Sage for a date night with friends or a significant other. It is open from 5 to 10 p.m. and is located right in the heart of the city, within walking distance of several cocktail bars such as Flirt, State Street, and Cask and Ale. Having the expectations of a longer wait time and challenging parking in mind, my friends and I had a lovely time, and for that, we will be back to see what the rooftop offers.
— Christyn Pek, business development executive
FX Excursions
FX Excursions offers the chance for once-in-a-lifetime experiences in destinations around the world.
Pantone recently unveiled its color of the year for 2023. The highly anticipated announcement has become a tradition, each year introducing a new color to represent the coming year. In 2021, Pantone declared 2022 to be the color of Very Peri 17-3938, a blend of purple and blue. For 2023, Pantone's Color of the Year is Viva magenta 18-1750. A shade from the red family, this color represents a new signal of strength. Brave and fearless, Viva Magenta is rooted in nature and embraces joy and celebration.
Sponsored Content
Experience the beauty of Alaska and save 60 percent off cruise fares on your second and fourth guests. Plus, drinks, WiFi and tips are all included.
The UNESCO World Heritage neighborhood of Balat rivals İstanbul's Old City for its historic significance, with an added splash of color. Its cobbled hilly streets boast a full rainbow of houses, cafés, restaurants and churches painted in pinks, reds, oranges, yellows, greens and blues — parts even surpassing my native San Francisco's steep, colorful corridors. The most vibrant stretch of homes, dating anywhere from 50 to 200 years old, runs along Kiremit Caddesi.