Last weekend in Southern Oregon we were forecast to get very unseasonable snow showers, but it would have taken blizzard conditions to keep me away from the 2023 Oregon Chocolate Festival, an event I had been unable to attend for the last five years. Thankfully, the predicted storm ended up delivering just a few wet flurries, but the event delivered up a plethora of chocolate tastings along with a wide assortment of other food and drinks that pair well with that food of the gods.
The event was held over two days at the Ashland Hills Hotel & Suites, but we were only able to attend on Saturday. That was certainly enough time to sample all the chocolate and other treats we wanted. However, it would have been great to attend the presentations and demonstrations offered on Sunday as well as the ones we took in Saturday. These informative, 45-minute talks delivered history, recipes, background and lots of fascinating information (as well as samples!) about everything from wine and beer pairings with chocolate to cacao as medicine, offered by chocolatiers and other experts. These sessions also gave us the chance to sit down and catch our breaths between bouts of sampling drinking chocolates, toffees, caramels and every kind of cacao confection you could imagine.
We always look forward to some local and regional producers that have stood the test of time and whose chocolates we have long enjoyed: Lillie Belle Farms, Branson's, Scharffen Berger. And there are always vendors who offer a new spin on old recipes or a unique approach to traditional techniques or ingredients. Some we really enjoyed discovering this year were Cocotutti,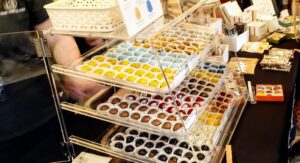 with beautifully decorated truffles in a broad range of colors and flavors and many varieties offered in a petite nibble size;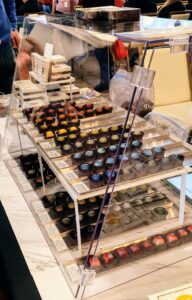 Moku's elegant, single-sourced bars (and the labels are lovely, too); and a unique, dark milk chocolate bar from Volo.
It's always interesting to pick up on the latest trends in confectionery as well. The focus on the previously mentioned single-sourcing of cacao beans (and attention to climate, terroir and fair-trade practices) continues to sharpen from its early introduction a decade or more ago, and we learned more about the unique flavor profiles of beans from Madagascar, Ecuador, Peru, the Dominican Republic and elsewhere.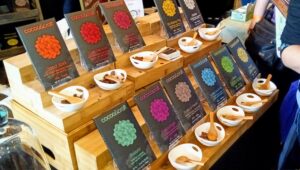 We also noted how chocolatiers and others are becoming more and more adventurous in their use of spices and unique flavors that were unheard of not long ago. Various chilis and peppers showed up in several different makers' goods, and I loved the cardamom and vanilla hazelnut toffee from Holm Made Toffee.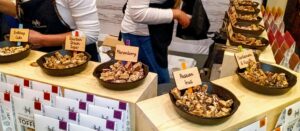 There was also a unique, pleasingly not-too-sweet Ceylon cinnamon caramel from Jonboy Caramels.
Interspersed with the stalls of the chocolate and sweets vendors were makers and sellers of local wines and meads, beers, teas, kombuchas and distilled spirits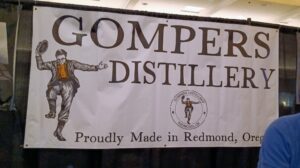 . . . some with chocolate as an ingredient but all touting how well their libation paired with chocolate. Rogue Creamery offered their award-winning cheeses to sample, and one could buy specialty salts, unique jams and preserves, hot sauces, and roasted and candied nuts . . . all tied to the chocolate theme with the not-too-nebulous connection that each complements the others.
We definitely were able to have our fill of chocolate by the time we left the festival several hours later; it certainly proved a great bargain for $20 a ticket. What's more, we purchased more than I care to admit to take home and enjoy later or share with friends and family. I'm already looking forward to next year!
— Patty Vanikiotis, associate editor/copy editor
FX Excursions
FX Excursions offers the chance for once-in-a-lifetime experiences in destinations around the world.
With the start of spring, travelers have their choice of new design-centric boutique properties opening in the coming months. Check out these properties for travel inspiration.
Sponsored Content
Europe is more fun with a Portugal Stopover.
Mendocino County is a self-contained universe of effortless, California-centric joy enveloped within the Redwood Forest National and State Parks, the rocky Pacific Coast and several prime wine production areas like Anderson Valley. If Highway 1 and Route 128 are the ribbons holding this package together, Elk Cove Inn & Spa can be considered the bow. Mendocino Coast's first vacation destination, established in 1968, is an ideal 16-room gateway to the destination.