A little more than 50 years ago, I met Tom in first grade at Sacred Heart School on Chicago's Far South Side. We bonded over sports, and he introduced me to baseball cards. We went to the same high school, where we played a lot of intramural sports together. Even though we went to different colleges, we remained tight.
After college I moved just north of Chicago while Tom moved next door to his childhood home. We stayed in touch, occasionally meeting at a Cubs or Blackhawks game.
Yesterday at Wrigley Field, Tom and I celebrated 50 years of friendship. Where better to celebrate friendship than the "Friendly Confines" of Wrigley Field? We caught up on our lives. We laughed about old times, recalling various hijinks we shared. We toasted a few friends who have passed. We even managed to watch a little of the game.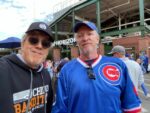 We tried to pinpoint the first baseball game we attended together. We think it was a White Sox game in early (and cold) 1974. We recalled all of our times at Cubs games. We even compared our individual travels for sporting events.
Unfortunately, the Cubs lost the doubleheader to the rival St. Louis Cardinals. It didn't really matter, though. This day wasn't about the Cubs, who were eliminated from the playoff race a while ago. It was all about friendship, 50 years of friendship.
— John Wroblewski, online writer
FX Excursions
FX Excursions offers the chance for once-in-a-lifetime experiences in destinations around the world.
Anantara Uluwatu Bali Resort's acclaimed Anantara Spa incorporates indigenous practices from world traditions, offering signature experiences individually personalized. And now, two renowned healers, experts in holistic, natural approaches to healing mind, body and spirit, join the celebrated Ibu Jero, High Priestess of Balinese Healers, at the spa.
Sponsored Content
This holiday season, escape to the Caribbean with Celebrity Cruises and reconnect with family and friends in luxurious accommodations that make you feel right at home. Savor globally inspired cuisine designed by our Michelin-starred chef, paired with the most awarded wine collection at sea. Elevate "me time" with a soothing spa treatment sure to renew. With both long and short cruises to celebrate in December, and even three special Ultimate Holiday Cruises that sail over Christmas and into the New Year, the time to gift an experience and create unforgettable memories is now. Celebrity Cruises' Always IncludedSM pricing — drinks, WiFi and tips — ensures a seamless, carefree vacation with the ones you love.
It's time to start dreaming of your next trip. Here's some destination inspiration for you. Take a visual journey through Tulum with us.