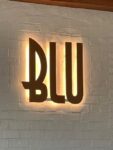 In the small waterfront town of Washington, N.C., tucked away at the far end of Main Street, where visitors come to shop and dine, a new gem is almost ready to be found. The store, Lane Blu, has teased us about opening a new restaurant for the two years I've been shopping there. I often visit on Saturdays when they have been offering food and drink samples as a little introduction to this restaurant we've been anxiously awaiting. The last time I stopped in to show my sister this great little store with items such as unique furniture, kitchen appliances and gadgets, gourmet food, olive oil and balsamic vinegars, they had a sign up to win an invitation to their soft opening. I was so excited to hear it was finally opening! And I was quick to enter. And guess what? I won an invitation! So Friday night I was fortunate to get a taste of what's to come August 12th.
I did a little research beforehand just so I would know what to expect. Their website describes the menu as "a globally inspired menu sourced almost exclusively from the fields and waters of Eastern North Carolina, and most of all, an unmatched guest experience that captures the essence of life on Little Washington's waterfront in a stylish, sophisticated, and timeless setting."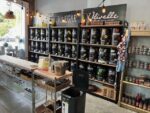 I knew they have been working on an open rooftop seating area, so I was worried about the heat, as temperatures were in the 90s. But when I walked in the entrance, located in the rear of the building, I was pleasantly surprised to find a quaint, air-conditioned seating area all set up for guests. I could tell every little detail was well-thought out. From the mix of intimate tables and chairs and bench seating on a dark blue velvet couch with trendy throw pillows to the unique gold flatware, every detail enhanced the feel of the space.
Since this was a special event, they had a menu offering a nice sampling of drinks, appetizers, entrées and a dessert. This was essentially a trial run for their opening, so each waiter or waitress had their own table, which I thought was a great idea to give them all a chance to work out any kinks in their system, although we didn't see any of the "kinks." My husband and I both started with the peach mojito, garnished with fresh flowers and a mint sprig. My daughter only ordered water but was given the choice of her fruit garnish, which was a nice touch. She chose lemon, I chose orange, and my husband chose lime. We couldn't make it too easy on our waiter since this should be realistic!
It was fun to see the Southern staple, pimiento cheese, as an appetizer, and a choice from four different stuffed deviled eggs. My husband loved the pork belly-and-crab-stuffed the best, but my daughter, who never tried deviled eggs before, chose the traditional as her favorite.
We all hesitantly ordered the she-crab soup because we come from an area near Maryland where crab soup is popular, so I have high expectations when I order it. This version did not disappoint! They offered up a generous portion, chock-full of crab meat.
When I moved down here, I asked some of our friends about shrimp and grits since it's not something we find in Pennsylvania. I often heard that the grits they've tried didn't taste like much. Well, I have to tell them all to try Blu's version to change their minds. The smoked Gouda grits topped with plenty of N.C. shrimp, andouille sausage and cheesy, bacony goodness were certainly not short on flavor! I would definitely order them again.
Even though we were all pretty full by the time dessert was brought out, we still had a little room left to try the summer melon sorbet. It was the perfect amount of sweetness to finish a delicious and artfully presented meal.
By the time we were done with our meal, a second round of guests was being ushered to tables on the rooftop. The sun was about to set, offering a beautiful view and some relief from the heat. I was told that they have some big plans for the rooftop, but they're top-secret. You'll have to go check it out for yourself when they open later this week.
— Tracey Cullen, art director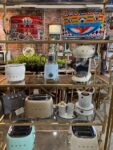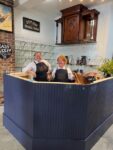 FX Excursions
FX Excursions offers the chance for once-in-a-lifetime experiences in destinations around the world.
Recaro's new CL6720 business-class seat with doors took off recently on Iberia's Airbus A350 cabin, flying Madrid (MAD) to Buenos Aires (EZE), with a total of 31 of the seats in the aircraft's business-class cabin. The premium-economy and economy cabins also feature Recaro seats.
Sponsored Content
FXExpress Traveler of the Year Contest 2023
In a city where new hotels, restaurants and experiences emerge seemingly every day, it's expected to feel overwhelmed when deciding where to dine. London consistently sees delicious and top-notch restaurants appear, but how can one possibly keep track of all the new and updated restaurants?