As I continue to explore places in North Carolina, I decided to take a trip to Aurora. This little town doesn't offer much for tourists, but there is a cozy restaurant, Frank and Shirley's, my friends have raved about. On Friday nights they have all-you-can-eat fried flounder that's touted as the best around. Unfortunately, Frank and Shirley's is closed on Sunday, but we were there for the town's other unique draw: Aurora Fossil Museum.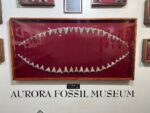 While it seems an odd spot for a fossil museum, the town of Aurora is perfect for it, thanks to a phosphate plant that dominates the area. The Nutrien plant produces and distributes more than 27 million tons of potash, nitrogen and phosphate products for agricultural, industrial and feed customers worldwide. The process of mining ore for phosphate unearths layers of sediment ripe with fossils.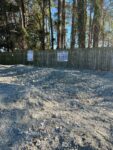 The museum is small but full of sets of extinct shark teeth and fossils of dolphin, walrus and other species. It was amazing to see the size of Megaladon shark teeth as big as my hand! What's even more fascinating is some of these fossils have been found right in that area.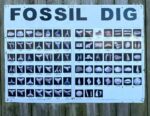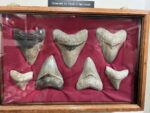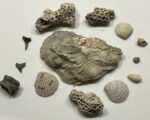 There was a room that detailed the process by which phosphate ore is mined and fossils are uncovered. The geology of the area goes back millions of years when the ocean covered what is now part of the coastal plain, which explains why so many of the fossils are from sea creatures. As mining machines dig through layers of earth to get to the phosphate, it's like going through a time capsule that contains fossils. The first layer is the most recent time period, containing horse teeth, mastadon teeth and other large terrestrial mammal fossils.
As they dig through different layers, they uncover beds of oyster shells, a variety of shells and coral. I'm most interested in the Yorktown Formation, where the Megaladon teeth can be found. Beyond that is the Pungo River Formation, which is limestone and contains casts and molds of fossil shells, shark teeth and bone fragments. And after that is the good stuff — the phosphate ore. As it is mined, they come across a variety of fossils, including some of the largest whale fossils and shark teeth ever found.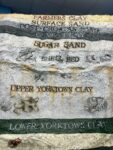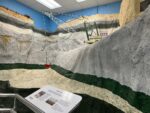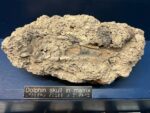 After learning all about fossils and phosphate mining came the best part — digging for fossils! Across the street from the museum lies the Pits of the Pungo, where visitors get to sift through the tailings donated by the mining operation to look for their own fossils.
When we got there, I had high hopes of unearthing a Megaladon tooth. As we dug and sifted through the tailings, I came across a dark, shiny triangle shape. My first shark tooth! I was so excited! I must admit, it's a bit smaller than a Megaladon, but I didn't care. My husband found one also, and we found lots of fossilized coral and shells. He also found some sort of bone that looks like it may be a vertebrae.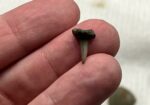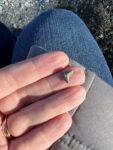 We enjoyed our trip to Aurora Fossil Museum, and it appeared several other families who were there with their children did also. I loved watching the kids run from one spot of the pit to another with their little shovels, hoping to find their own treasures.
— Tracey Cullen, art director
FX Excursions
FX Excursions offers the chance for once-in-a-lifetime experiences in destinations around the world.
Turkish Airlines recently opened a new lounge in Terminal 1 of New York's John F. Kennedy International Airport. The airline operates three flights per day from the airport and now premium passengers have luxurious, comfortable and hospitable lounge amenities to enjoy in a renovated, rebranded space.
Sponsored Content
Learning more about our readers' travel habits and preferences ensures Global Traveler delivers the content you desire. As the travel industry has adapted and changed over the last few years, it's more important than ever to connect. To best meet your short- and long-term travel content needs, please help us!
It's time to start dreaming of your next trip. Here's some destination inspiration for you. Take a visual journey through these unique museums in Europe with us.