Last weekend I ventured out to Greenport, Long Island, to visit friends at their rental house. This was my first time there, and after the weekend was over, I was hooked.
The drive out was so beautiful. I drove through farmlands and vineyards and passed every type of roadside stand you could imagine. There were moonshine stands, fruit stands, pie stands, oyster stands, farmers markets … you name it, they had it. I was able to catch the sunset before I got there, which was stunning.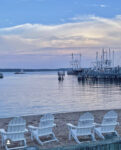 When I got to their house, I was in awe. I had never seen so many fireflies in my life; it was magical. The house was within walking distance of all the shops, restaurants, the marina and the beach.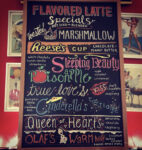 The following morning we went for breakfast at Crazy Beans, a 1950s-style diner with a separate menu just for lattes. After breakfast we browsed all the boutiques and vintage stores. Once we returned to the house, we packed a lunch and walked to the beach for the afternoon. We went to Anker, a seafood restaurant with an open rooftop overlooking the harbor, for dinner. We split mussels, oysters, swordfish and a steak. Everything was cooked perfectly, and the seafood tasted as if it had just been caught.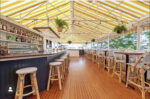 We spent Day Two at the beach, followed by a free concert in the park by the marina. I loved the hometown feel of Greenport. Everyone was so laid-back and friendly. I can't wait to go back next year!
— Alaina Cagliostro, director of sales
FX Excursions
FX Excursions offers the chance for once-in-a-lifetime experiences in destinations around the world.
COMO Hotels and Resorts offers travelers new immersive luxury retreats for 2022. Perfect for couples, small groups or solo travelers, the new COMO Journeys are available to book in Australia, Bhutan, Indonesia and Thailand.
Sponsored Content
IHG® Hotels & Resorts certainly has a lot to celebrate, starting with an incredible growth story. Over the past five years, IHG has acquired or launched six new brands: Six Senses® Hotels Resorts Spas, Regent® Hotels & Resorts, Vignette™ Collection, voco™ hotels, avid® hotels and Atwell Suites™. Most recently, IHG reached an important milestone with its 6,000th open hotel. The company looks to further expand its portfolio by 30 percent with 1,800 hotels in the development pipeline, with significant focus on growth in the luxury segment where IHG is positioned as one of the top two hotel chains.
Anantara Chiang Mai, the deluxe resort on the banks of Thailand's Mae Ping River, relaunched the city's most famous high tea experience, served on the terrace of the 100-year-old British Consulate that today houses the resort's Service 1921 Restaurant & Bar.