By the time this blog goes live, I will be halfway through my adventure in Utah. It has always been on my list of places to explore, but I have never had the chance or the travel buddy until now. Before this, I have only been to the western side of the United States for quick work trips or a weekend wedding but have never had the chance to explore for more than a day or two.
On our first stop, we are visiting Sundance Mountain Resort. Arriving June 20, we will fly in on the day of the Summer Solstice Event. The resort has a day of activities we are able to join, from yoga, music, a BBQ dinner to an interesting and unique class to make an authentic Native American drum. The class takes attendees through the history and meaning behind drumming. A guide will help visitors create their own instrument with buffalo or elk hide and a wooden hoop made from a maple tree. Although I did not sign up for this experience, I will pop my head in to take a glance at the action.
After a couple days at the resort, we head to an area around Zion National Park in Hurricane, Utah, to go glamping. I am ecstatic to do this as I have not been camping in about eight years. We found our spot on Airbnb, with the most stunning view, called Ponderosa Pine Luxury Camp Sites. I cannot wait to wake up for the sunrise as it hits the large rock formation in front of our tent. It is going to be breathtaking. We will spend two nights here to give us a chance to explore as much of the area as we can.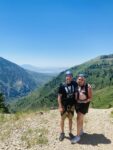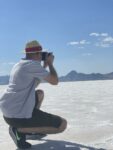 Next on the itinerary, we are going east to the Grand Canyon. This campsite is right outside of the North Rim entrance of the canyon in Williams, Arizona. Yet another glamping Airbnb, this listing sounded phenomenal and like a one-of-a-kind experience with locals. Our stay is fully hosted by the owners of the property, called Camp Prado, Rich and Jeff. Upon reading the more than 1,400 reviews with an average of 4.91 stars, how could we not book? The hosts help you set up camp, cook a family-style meal of chili and cornbread (yum) for all who are staying the night and have breakfast in the morning. What a steal! The reviews make note Rich and Jeff have a telescope they like to bring out to show guests the stars, and by the end of the stay, everyone felt like family. I can't wait for this experience.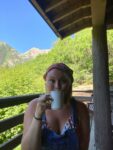 Once our outdoor adventure is over, we are making a short drive to Las Vegas to stay at the Mirage. My boyfriend, Jason, doesn't know this yet, but our friend from Germany, Ugi, will surprise him by meeting us there to celebrate his 30th birthday. Ugi purchased tickets for us to see DJ Steve Aoki, famous for throwing full sheet cakes at people in the crowd, at the day club Wet Republic.
I know this will be one of my best trips so far, and I cannot wait to come back with some first-hand experiences to share on Global Traveler!
— Audrey Lee, assistant editor
FX Excursions
FX Excursions offers the chance for once-in-a-lifetime experiences in destinations around the world.
With the autumn in full spring, now is time to start planning your fall weekend getaway.  Whether a relaxing weekend on the lake, leaf-peeping or hiking, check out these fall travel trends from vacation rental management company Vacasa.
Sponsored Content
The Global Business Travel Association's (GBTA) Convention 2021 will be unlike any other convention before it, as we come together in person for the first time since the business travel industry drastically changed and look forward to rebuilding and reshaping the future. GBTA Convention 2021 will bring all of us together to learn from experts and each other, in-person at Orange County Convention Center in Orlando, Florida, Nov. 17–19. The safety of our attendees is our top priority. View health and safety protocols.
I imagine that when writer Hans Christian Andersen mused, "Life itself is the most wonderful fairy tale," he was standing at the edge of Copenhagen's historic Tivoli Gardens, one of his favorite haunts, enlivened by the swirl of human happiness that surrounded him: children laughing; carousels spinning; games of chance played for prizes; lovers holding hands; hungry people whispering over sweets, hot drinks, beer and towering, open-faced smørrebrød, Denmark's quintessential sandwich. That fairy tale lives on today at the second-oldest amusement park in the world, a spectacle of folly architecture, bakeries, gardens, rides, restaurants, puppet shows and joy ... and which also happens to be one of the city's most storied places to convene for business.