Air passenger rights company AirHelp compiled data on airports with the most flight disruptions in February 2023 to determine airports travelers should avoid if they want a smooth trip this spring. The study looked at airports that serviced more than 1,000 flights in the month of February.
The airports with the highest percentage of flight disruptions are:
Kahului Airport (30.82 percent)
Reno/Tahoe International Airport (29.15 percent)
Harry Reid International Airport, Las Vegas (28.52 percent)
Dallas/Fort Worth International Airport (28.51 percent)
Boston Logan International Airport (28.23 percent)
Dallas's two airports, Dallas Love Field and Dallas/Fort Worth International, ranked in the top five for highest percentage of canceled flights in February. Those planning one last ski trip might want to avoid Denver International Airport, with 26.65 percent of flights interrupted. Instead, opt for Salt Lake City International, with just 21 percent of flights disrupted.
Traveling to Florida this spring? Jacksonville (JAX) and Tampa (TPA) ranked as Florida's best airports, both with less than 18 percent of total flights disrupted. Should you find yourself in South Florida, fly directly to Miami (MIA) instead of West Palm (PBI) or Fort Lauderdale (FLL), as Miami International had a lower percentage of canceled flights this February.
Georgia's airports maintain commendable stats, with 84.02 percent of flights leaving on time from Hartsfield-Jackson International Airport and 84.15 flights leaving on time from Savannah/Hilton Head International Airport. The country's most reliable airport in February was McGhee Tyson Airport outside Knoxville, Tennessee, with more than 85 percent of flights on time.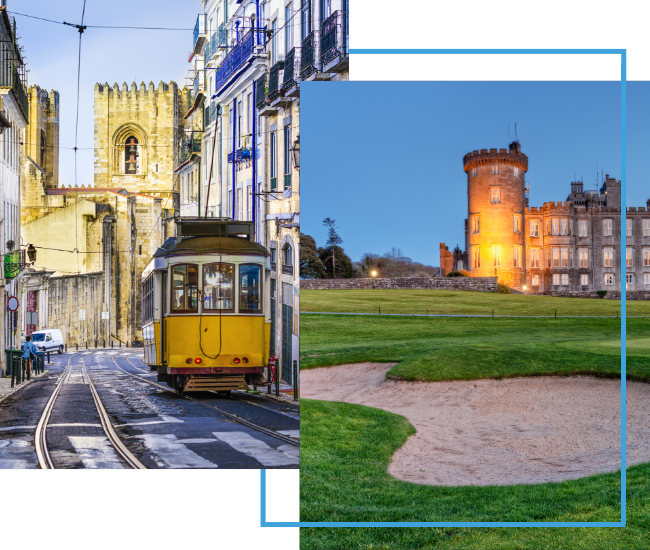 FX Excursions
FX Excursions offers the chance for once-in-a-lifetime experiences in destinations around the world.
Explore Excursions
Imagine yourself lounging in a stone cottage suite with a fireplace and freestanding tub, sipping hot chocolate in a rustic game and reading room with a raftered ceiling, and ice skating and cross-country skiing in the crisp mountain air. Sounds pretty perfect, doesn't it? Especially when you add in seasonal touches.
Sponsored Content
Exclusive Sailing with Global Traveler
For the first time in Olympic history, when the 2024 Summer Olympics kick off on July 26, 2024, they will not do so in a stadium. Instead of an Olympic venue, the entire city of Paris will become the Olympic stadium, hosting the games among monuments, on bridges and on the grounds of some of the world's most historic sites. The Opening Ceremony will take place on the River Seine, where athletes will drift along on a flotilla of boats as spectators wave them on from the quays and bridges throughout the city.